Happy Friday sweet friends! I know I mentioned yesterday about the Rangers getting a new owner. I can't even begin to describe how happy it makes my "baseball heart". I'll spare you all the details most of you probably don't care about (just Google
Chuck Greenberg
or
Nolan Ryan
and look at news articles from the past week, it will catch you up). It's been a long process getting the ownership of the team transferred to Chuck and Nolan (since I'm friends with Chuck Greenberg on Facebook, I feel I can call him by his first name. And Nolan Ryan is just Nolan to everyone around here. That's how we do things in Texas). :) I emailed my friend Nathan yesterday telling him that I was "ridiculously giddy" about the new ownership and the possibility of great things to come for the Rangers. He said he was too. Like I've mentioned before, being a Rangers fan is sometimes like being in an "unhealthy relationship". They get your hopes up, just to break your heart. So far this season they are exceeding all my expectations. I refuse to jinx them and say anything more, but right now, my baseball heart is happy! Again, for better or worse, in sickness and in health, in rain and in 100+ degree temperatures, in wins and in losses, I'm a Rangers fan for life!
I do have a point to this rambling. I was just setting up the pictures I'm about to post. My sweet great-nephews "C" and "E" got professional pictures taken a while back wearing adorable Rangers outfits (three guesses which favorite aunt bought them). ;)
"C" says "Put me in coach!"
"E" is ready to throw the ball
"C" loves playing baseball!
Okay, so they changed his outfit for this picture. But, it was too cute not to share!
It's Friday and if you are a regular follower of my blog, you know it's Five Question Friday time! Welcome all new visitors!! Feel free to put your feet up and stay for a while!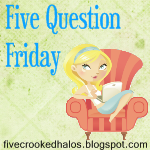 1. Are you a neat sleeper or a messy sleeper?
I think that I'm a neat sleeper. Now Mordecai, on the other hand, is the messy sleeper. The sheets are always tangled on his side (please click
here
to see who Mordecai is). ;)
2. Fill in the blank. I wish I was more _____.
I wish I was more Christ-like. I'll admit it. I have days where I'm not this nice, sweet person I make myself out to be (I know, you are all shocked). We aren't even going to discuss the things I said and thought about
Mark Cuban
when he was trying to steal the Rangers out from under Chuck and Nolan (again, Google for more info on that). Yes, okay, I was possibly praying about the ownership of a baseball team. Are you really surprised?? I have no doubt that God was up in heaven, head in his hands going, "What am I going to do with this girl?" But in all seriousness, I do wish that my attitude was more of a reflection of Him, than myself.
3. What is something that you wish you had been warned about?
The evilness of credit cards. As an innocent, naïve, 18 year old in college, I signed up for a credit card (hey, they were giving away free T-shirts with each application). When you are young, you don't think about having to pay back everything you put on the card- you think of it as "free money". And then it adds up (and adds up, and adds up...you get the idea). Oh, to be able to go back in time....but alas, I cannot.
4. What was the best thing you have ever found at a garage sale/flea market?
I don't go to a lot of garage sales or flea markets (nothing against them, I just don't go). I guess eBay is sort of the 21st century's version of a worldwide garage sale. For a while, I bought some sports memorabilia and art history books off of eBay, so I guess I'll go with that. I have been "eBay free" for almost 10 years now. I realized it was becoming an addiction and I was buying stuff I really didn't need (I know, shocker!)
5. If you could have any meal brought to you right now, what would it be?
Um...I'm not that hungry right now, so I really don't know. I'm a big fan of steak, and I rarely turn down a free steak meal, so I'll go with that (it's a joke amongst my friends and family that I get more free steak than anyone else they know). So, I would like a sirloin steak (no pink but not burnt), a baked potato with cheese (no sour cream) and a Caesar salad. Now that I think about it, I'm starting to get hungry. So, if anyone is near the "big pink building" (as I call my office), feel free to bring that to me for lunch today!! :)
Happy Friday!! I hope you all have a great weekend!! This time next week I'll be getting ready to board a plane for my trip to Atlanta. I'm so excited!!
I leave you with two more pictures from the "C" and "E" photo shoot! You can't tell that I'm a proud aunt AT ALL, can you?? : )