Happy Friday friends!! We have made it to another weekend!! :) **insert happy dance here**
My regular readers know that I love listening to music (especially country and contemporary Christian music). I follow Mac Powell (lead singer of the Christian band Third Day) on Twitter (you can follow him
here
). On Wednesday he posted that he was having a contest to see who could do the best Mac Powell impression. He later posted links of the finalists on his Twitter page. One of them was a musician named James David Carter. His video was awesome, he has such a great voice (and he's really good on the guitar too)! The link was to his YouTube page, so I checked out some other songs he has posted. I sent him a message on Twitter and he gave me the okay to post some of his videos on my blog so you can check them out as well! I highly recommend taking time to watch these! I honestly think no matter what your music preference is, you will like him. For more information, check James out on Twitter
here
. He also has a music Myspace page
here
.
His video for the Mac Powell contest.


Here is his cover of Garth Brooks' "She's Every Woman" (one of my favorite Garth Brooks songs!) :)
His cover of Amos Lee's "Arms of a Woman".
Here is one of his original songs!
For more videos, go to his YouTube page
here
. Best of luck James!! :)
Well, it's Friday, so you know what that means. It's Five Question Friday, Friendly Friday Follow and New Friend Friday time! Welcome to all visitors and new followers. I hope you enjoy your stay here!! If you would like to check out other blogs, click on one of the icons below and meet a new friend today! :)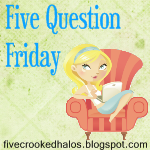 1. Do you have any nicknames and if so how did they come about?
I wonder if she read my blog yesterday and got inspired by my Thursday 13 post? :) Instead of retyping all of them, if you are interested, you can check out my post yesterday for my list of nicknames
here
. OH, I did leave out one that my sweet friend Gena reminded me of.
Sniffles
. My freshman year of college I constantly had an upper respiratory infection or allergies, so I was sneezing and sniffling all the time. So, I got the nickname Sniffles!!
Gena and me at the Women of Faith conference last year- we hadn't seen each other since college! Yes, that is a Dallas Stars hockey poster behind me! :) We were at the AAC.
2.What is your birth order amongst your siblings?
I am the youngest of 6 kids.
3. In a movie of your life, who would play your significant other?
I think I'll have to go with Zachary Levi (the title character on the TV show
Chuck
). He's adorable. And I know for a fact he likes baseball. And from the interviews I've seen, he has that dorky/goofy quality that I seem to like in guys! :)
4. What is currently your favorite song?
Oh wow, I like so many songs, I don't think I can choose just one! :) I've been listening to a lot of Third Day and Jeremy Camp lately, so it will most likely be from one of them! :)
5. Are you saving your money for anything right now? Big or small purchase?
I just got back from my trip to Atlanta (go
here
for pictures), so that is what I had saved up for. Some friends and I want to go to Graceland, so I guess I should start saving up for that. I also want a big flat screen TV (note: I said, WANT, not NEED). I just can't bring myself to dish out that kind of money. BUT, if someone wanted to buy me one, I would gladly accept it! :)
Hope everyone has a great weekend!