It's Five Question Friday time!!
1. Do you apologize to your kids?
Well, I don't have any yet, so I can't answer that question. BUT, I'm sure there will come a day when I will have to apologize to my daughter for naming her after a baseball player (Avery). : )
2. What color are your nails right now?
The best way to describe the color is that it's Dr Pepper can maroon (I didn't do that on purpose, my friend just happened to notice after the manicure they were that color). The paint is starting to chip though, I might have to go get another manicure today. :)
3. When you were growing up, how difficult was it for you to stay home from school sick? (As in, did you have to vomit or just say, "I don't feel good").
I think if I was at home, my folks had to think I was really sick, I couldn't just say, "I don't feel good." Now, if I was at school, it was easier to leave early feeling "sick". I was great at pretending I didn't feel good. I did that a lot in elementary school if I didn't have my homework done. I mean, I never left school early when I wasn't really sick, what are you talking about! I was a sweet, innocent child! ;)
Would this face lie to you?
4. When is the last time you bought a new comforter for your bed?
Back in December. Kohl's had a comforter set sale! :)
My comforter!
Not my room though.
5. Favorite website(s)?
Go check out other Five Question Friday responses
here
.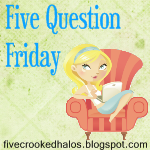 Have a great weekend everyone!
XOXO!