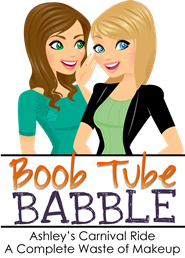 Since I mentioned yesterday about having season premieres marked down in my day planner (yes, I realize I'm pathetic), I thought for Boob Tube Babble today I would post my weekly line up of TV shows that I plan to watch this season. This is brought to you today by the letters D V and R and the number 4 (meaning I can record up to four things at once on my DVR). If it wasn't for a DVR, there is NO way I could watch all of these. There are some shows I get about a month behind on watching because I don't have time. I guess that's a good thing- it shows I have somewhat of a life. It also means that sometimes TV shows take a backseat to sports. And so far I don't plan on checking out any of the new shows. I have too many to keep up with right now. Anyways, I'm rambling. So, here is my lineup!! **All times are CST**
Sunday:
Sunday football. Starts this Sunday at noon.
Extreme Makeover: Home Edition (for when I need a good cry). Season premiere Sept. 25 at 6pm on ABC.
CSI: Miami (I read a spoiler regarding Delko and Caleigh for this season- I'm excited!) ;) Season premiere Sept. 25 at 9pm on CBS.
Monday:
It looks like Mondays this year will be my "catch up" day (unless the Monday Night Football game is one I care about). I don't have any shows on Monday nights this season!
Tuesday:
NCIS. Season premiere Sept. 20 at 7pm on CBS.
NCIS: Los Angeles. Season premiere Sept. 20 at 8pm on CBS.
Wednesday
Criminal Minds (JJ is back this season!) Season premiere Sept. 21 at 8pm.
CSI has moved to WEDNESDAY! (Side note: Ted Danson is taking over for Laurence Fishburne, who has left the show). Season premiere Sept. 21 at 9pm on CBS.
Psych (so thankful I can record more than one show at once. Psych is on at the same time as CSI this year.) Season premiere Oct. 12 at 9pm on USA.
Thursday:
The Big Bang Theory (I can't wait to see what they do with this whole Raj/Penny situation from the finale last season!) :) Season premiere Sept. 22 at 7pm on CBS.
The Mentalist. Season premiere Sept. 22 at 9pm on CBS.
Friday:

CSI: NY. (I'm so glad this one is returning. I really like Gary Sinise!)

Saturday:
Another off day for me TV show wise. :)
Hope everyone has a great weekend. I promise a full review of The Sunshine Boys with Dick Van Dyke and his brother Jerry sometime next week!!
Have a great weekend!

XOXO!