The rules for this award are pretty unique. I have to list five things about myself. However, only ONE of the facts will be completely true. The other four might have a little bit of truth in them, but are ultimately incorrect. Think you can guess which one is real? :)
1. The first major league baseball game I attended was between the Rangers and the Orioles.
2. When I was in junior high, my family hosted an exchange student.
3. When I get married, I want to leave the reception in a DeLorean.
4. I didn't learn to swim until I was 10.
5. My favorite clothing store is Old Navy.
Leave your answer in the comments below (or tweet/email them to me!)

I'm supposed to pass this award along to other blogs, so I'm going to cheat (again) and pass it along to all of you!! Let me know if you participate, I'd love to see your facts!! :)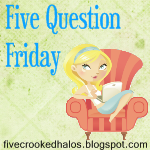 1. Can you drive a stick shift?
Now, if the question was "can you drive a stick shift WELL" the answer would be NO. A big NO. HECK NO. I can give you a list of people who have tried to teach me to drive a stick shift and they will laugh at you for asking. Now, if I was stranded in the middle of nowhere and the only way to get home was a stick shift, I would eventually get home. I can't guarantee the clutch would still be in good condition though. Once I get going, I'm okay. It's the whole getting going and starting/stopping thing that I can get down. My own personal hell is being stuck in a stick shift vehicle on a hill. **shuddering**
2. What are two foods you just can't eat?
Only TWO? You know me, I'm picky, but if I had to pick two, I would say guacamole (gag) and pasta salad. Now, I LOVE pasta. HOT COOKED pasta. The whole cold pasta thing doesn't fly with me! Blek!
3. Do you buy Girl Scout Cookies? What is your favorite kind?
I really hope I don't lose friends/followers by saying this, but here I go: I don't like Girl Scout Cookies. Now, to be fair, I don't really like many cookies (except my mom's homemade peanut butter cookies). So no, I don't buy any. No, I don't even like Thin Mints (is now a good time to mention I don't like chocolate and mint mixed together)?
4. How do you pamper yourself?
I usually go get a pedicure (the super-duper kind, where they use hot rocks and wrap your legs in hot towels. It's blissful! I even get little flowers painted on my toes!) :)
5. What is your nickname and how did you get it?
I actually did a post last year on my nicknames.
Go here for that
. In addition to those names, I'm also called Sniffles and Soul Sista! :)
Have a great weekend lovelies!!
XOXO!!!