Thanks to all the ice days we've had the past two weeks, my department at work is behind on A LOT of our projects. This being said, I have to work all day today (normally I work half days on Fridays). I don't see a lot of sympathy coming from anyone out there!! :)
Over at
For The Love of Blogs
, they are co-hosting Joyful Moments today. We were asked to post a picture(s) that brings us joy and to blog about it!
These two pictures bring me joy because I LOVE being an aunt (or in this case, a great-aunt). My niece posted these pictures of her sons, "C" and "E", on Facebook. Just seeing their precious faces brings me joy and makes my day 1000 times better!! I can't wait to see them again, hopefully that will be soon!! They are my sweet chunky monkeys! :)
C showing off his teeth
E wearing his Aggie jacket (I have a feeling it was a gift from his Meme!)
If you would like to participate in 5 Question Friday, click the icon below!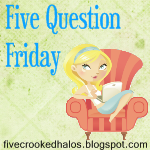 I think I would go with What Not To Wear (seeing that I don't own a house). I'm pretty sure Clint and Stacy would rip apart what I currently wear, but at least I would get new clothes out of the deal. Side note: I usually make it about 10 minutes into Extreme Home Makeover before I start crying (I honestly think that is the purpose of the show- see how fast you can make the viewers start crying).
Clint and Stacy from What Not To Wear
2. Do you have any tattoos?
Here is a picture of the tattoo I got in college (please see caption below the picture).
Before my mom freaks out and calls threatening my life, this is NOT real. My friend painted it on me one time (we got bored). I have a fear of needles, I could never get a tattoo!
3. Do you tell your kids about things you did growing up?
Well, when I have kids, I'll tell them some things. ;) I'm sure at some point I will say, "when I was your age, I didn't have the internet/cell phones/flying cars..." (I'm convinced one day we will have flying cars!!) ;)
Back to the Future 2 was set in 2015. They have 4 years to get flying cars up and running, or in this case, flying! :)
4. If the traffic signal turns yellow, do you stop or speed up?
It depends. If there is a red light camera at the stoplight, I make every attempt to stop! ;)
5. What's your preference: chocolate or chips?
What about chocolate chips? ;) I guess it all depends, I like both chips and chocolate. I'm picky about my chocolate though (hey, I'm picky about the rest of my food, chocolate shouldn't be an exception). I'm not a fan of dark chocolate (I know, I know, I'm just weird). I love milk chocolate though. As I've mentioned before, I'm not a fan of cakes or pies, BUT I have a weakness for candy. I love Snickers and Milky Ways. And M&Ms! :) Oh, and regarding chips, my parents introduced me to these vegetable chips. They are REALLY good by the way!!
Hope everyone has a great weekend! We are finally getting back to "Texas friendly" temperatures this weekend!! Thank goodness!
XOXO!!