I'm so glad that it's Friday. It's my half day at work, so I'm outta here at 11:30. Besides a doctor's appointment at 1:30, I can relax at home and do absolutely nothing for the rest of the day/evening. Yippee! I'm looking forward to the weekend and hoping it can erase this awful week that I've had.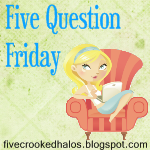 Yes. When I was working for a newspaper, I had to cover city council meetings. Anyone who has ever been to a city council meeting knows how boring those can get. One time I fell asleep in my chair. THANKFULLY, I was sitting in the back, so I don't think anyone really noticed. I was maybe asleep 15 or 20 minutes before I woke up. Also, one time when I was younger, I was at my best friend Mandy's house and I fell asleep on her floor.
Obviously there are times when I have to use them (especially since I go to a lot of sporting events). But I'm very picky about ones I will use. The ones at The Ballpark and the American Airlines Center (home of the Dallas Stars and Dallas Mavericks) are pretty clean (for a public restroom). If I'm on a road trip, I prefer to stop at a fast food place instead of a gas station. I just feel that fast food places clean their restrooms more often than a gas station. I am a firm believer in never touching the door handle of a public bathroom though. I've seen too many people walk out without washing their hands (I know, it's gross). I always use a paper towel to open it!
Since I'm single right now, this doesn't apply to me. But if I ever get stuck on an elevator with Zachary Levi, I might have a more interesting answer next time! ;)
Day 24: Where I live
I live in Dallas, Texas. I LOVE it here. I've only been here for 6 years and feel more at "home" here than where I grew up. No matter what your interests are (sports, art, theater, history, good food, etc), we have it all!! :) We are also home to the great State Fair of Texas (which kicked off today!) :)
Hope everyone has a great weekend!! Happy Friday!!
:)