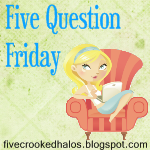 1. What is your favorite current book, and why?
2. Do you go to the dentist regularly?
Yes. In fact, I have a dentist appointment this afternoon with the Flossing Nazi (as I call her). I don't ever seem to floss enough. I think I could floss 10 times a day and she still would tell me I wasn't flossing enough.
3. What is your worst memory from high school?
I'm not sure I have any bad memories. Just your typical high school "growing pains". Although my hair in high school is a pretty bad memory, maybe I should say that! :) And we won't even talk about my eyebrows. Moving on, no seriously, moving on! You don't believe me? Fine, take a look below...
Senior prom- 1996. Me and my friend Zach (I think I blinded everyone with my whiteness-good grief). I told you my hair was bad. The 80s ended but my hair didn't get the message! Oh the bangs. There are no words. I'm so ashamed. BUT, in other news. A big shout out to my buddy Zach today- it's his birthday!! Happy birthday Zachary!
4. What do you hope to be remembered for in your life?
I hope to be remembered as a woman who did her best to live her life one day at a time and who did her best to share the love of Christ with others along the way.
5. Are you superstitious or do you have any superstitions?
Not really, maybe a few sports superstitions. Like if a pitcher is throwing a no hitter, I don't EVER say "no hitter" during the game. Same goes if he's pitching a shutout or perfect game.
I know it has absolutely nothing to do with the outcome of the game, but still, I'd rather not risk it. :) Oh, and I don't wear my Tim Duncan jersey on game days if the Spurs are in the NBA playoffs. It seems whenever I do that, they lose.
Yes, I live in Dallas. Yes, I'm a Spurs fan. Deal with it! ;)
Happy Friday lovely friends! If you are interested in meeting new blogging friends, check out
For the Love of Blogs
. There are some fabulous people over there!
I've recently made some new friends over there, go check them out and say howdy!! Just click on their name to get to their website!
Remember Ember
Alex's World
DAT's So Cute
Scenic Glory
As always, check out my side bar for other blogs I follow. They are all fabulous people!
Hope everyone has a great weekend!!