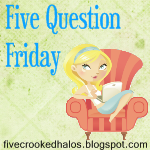 1. Groceries are high right now, what is the easiest way you have found to cut back?
I've gone to the "generic" brands for many items. The Kroger brand spaghetti sauce is JUST as good as Ragú (and it's at least $2 cheaper). Same with cereal (although Corn Pops were on sale last week and were actually cheaper than the generic brand. I keep my eye out for sales). I WON'T give up my Jif peanut butter though, I can't handle the imitation brands. I splurge for that! :)
2. What are the top 3 things on your bucket list?
I don't think my bucket list is in any particular order, but here are three things on it.
1. Going to all of the MLB ballparks and stadiums in North America.
2. Sitting next to Nolan Ryan (in the owner's box) at a Rangers game (I don't see this ever happening, but it's on my list!) BTW, if I EVER get that opportunity, I'm taking my Bubba with me, so don't even ask. Sorry, but he introduced me to baseball, he gets to go! :)
3. Visiting at least some part of Europe.
3. Would you rather give up the AC or heater?
I live in Texas- I'm going with giving up the heater. We use the AC probably 300 days out of the year (there are rare occasions where we don't have to use either the AC or heater). I use the heater MAYBE 14-20 days (not necessarily in a row) during the winter. I can "layer up" if I get too cold! :)
This was last summer. One day the high only reached 90 and it was like a cold front!
4. What is your favorite cocktail?
I don't drink cocktails, so I'll go with the movie Cocktail as my favorite! :)
Ah, 1988- when Tom Cruise was young, not crazy, and taller than me! ;)
5. What was your first job and how old were you?
Not counting the babysitting jobs I had starting at age 11, I guess it was when I was 14. I was an assistant at a church's childcare center. I was basically a childcare worker, but since I was under 16, I had to be an "assistant" (not sure if there was really a difference except in the title and the pay). When I was 16, I became an official childcare worker (and got a $1.50 raise from the $4.25/hr I was making- yeah, that was minimum wage in 1994). I worked during the summers and on Friday nights (except during football season- I was a band nerd- I had to be at the games).
Have a great weekend everyone!
XOXO!