I'm so glad it's Friday! It's been one heck of a week! It's my flex day so I'm off work at 11:30 today. Wahoo!!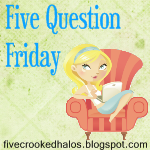 1. What Christmas song do you loathe?
Wow, "loathe" is such a strong word. This is going to sound bad, but I'm not "fond" of
The Little Drummer Boy
song. (I can't say I "loathe" it though). Just something about it annoys me.
2. Do you and your significant other cuddle at night or sleep on opposite sides of the bed?
This doesn't really apply to me seeing that I only share my bed with Mordecai (my teddy bear). I will say that he hogs the covers. When I wake up, they are always on his side. That cheeky bear!! :)
3. Have you ever had surgery?
Does having my wisdom teeth cut out count? I had those taken out about 10 years ago. You know how most people are put "under" when their wisdom teeth are taken out? Yeah, I was WIDE AWAKE. Not fun my friends, not fun at all.
4. When do you typically have your holiday shopping done?
By Christmas for sure! :) It all depends. I would say I actually have over 50% of my Christmas shopping for this year done right now. Of course I'm not buying all that much this year, so that is one of the reasons! :)
5. If money were not an issue (and you HAD to pick something), what would your ultimate luxury item be?
Wow, I'm not sure. I REALLY want a new TV (preferably a big flat screen). I just can't bring myself to buy it though. It's just too much money for a TV. Maybe one day I'll cave.